Developed by WB Games Montréal, the game features an expanded Gotham City and introduces an original storyline set several years before the events of Batman: Arkham Asylum and Batman: Arkham City, the first two critically acclaimed games of the franchise. See and live the life changing events that sets him on his way to becoming The Dark Knight.
Screenshots & Videos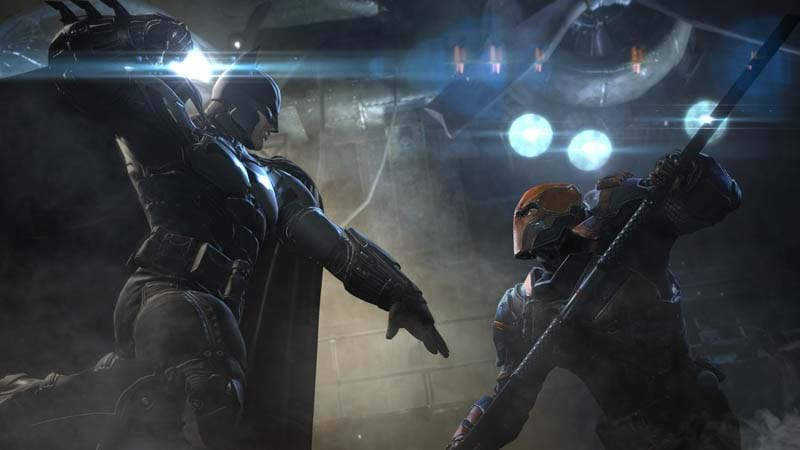 The very beginning before the rise of Gotham City's most reckless and criminally insane felons, the game showcases a raw and untouched Batman as he faces a life changing moment in his earlier career as a crime fighter, that sets him on his way to becoming The Dark Knight.
The Arkham Story Begins: Arkham Origins structures a momentous tale that began on Christmas Eve. Where eight of the most evil and deadly assassins all our of the DC Comics Universe are on the hunt for Batman. Gamer's start by becoming Batman, but in his early-career as he has his first ever encounters with the characters that shape his future. 
Enhanced Detective Mode: Knows your chance to think just like Batman with all the newest Case File system that lets gamer's analyse in real time seemingly impossible to work out crimes. Bringing together The Batcomputer and Batman's own cowl sensors, players can now digitally re-imagine and create crime scenes and study them with detailed simulation of how the crime happened. 
Gotham City Will Learn to fear Batman: Going back in time to the streets of Gotham years and years before it was transformed into Arkham City. Battle or glide your way through new and even more treacherous districts in the mission for justice. Take down gangs of reckless new felons and discover risky and deadly new areas, from the impoverished high-streets to the penthouses of Gotham's riches, and stop all the crimes in progress.
Gotham's Most Wanted: The streets of Gotham aren't just filled with Black Mask's assassins, there's so many more threats  than you think. Find and take out Gotham's most vicious and threatening criminals to earn the most unique and epic upgrades.
Lethal New Enemies: Battle it out with brand new foes such as the Martial Artist, The Armored Enforcer and many more - all of which dare players to approach Batman's FreeFlow Combat plots all in different ways. Standard FreeFlow conbat is made bigger and bigger with every new challenger - and with Batman's powers to engage them.
New Gadgets: Exploit Batman's signature gadgets or take full advantage of the brand new powerful additions eg: The Concussion Detonator, and The Remote Claw and many more. You can use the Remote Claw to generate new and improved routes by setting up strategic tightropes or just directly attacking the enemies by tying them up for VANTAGE POINTS. Prepare the Concussion Detonator to stock and disorient gangs of enemies in the close combat.
New and Familiar Characters: Undergo a shiny new take on iconic Batman characters starring, The Penguin, Black Mask, Bane, Deathstroke, Deadshot, Captain Gordon, Copperhead, Firefly, Anarky, The Joker and many more yet to be revealed
New Online Mode: Battle online with your friends and foes in 3v3v2 gameplay that mixes traditional Arkham game play with a third person shooter mechanics. Prey on enemies as Batman or Robin against out most risky and terrifying opponents yet - Other online gamers and friends - or take a walk on the dark side as a real Super-Villain Elite and be apart of the Bane's or The Joker's gang. Players playing as a Super-Villain Elite will have the opportunity to seize power of either Bane or The Joker for a limited amount of time.
BATMAN™: ARKHAM ORIGINS software © 2013 Warner Bros. Entertainment Inc. Developed by WB Games Montréal and Splash Damage. Batman™ and all characters, their distinctive likenesses, and related elements are trademarks of DC Comics, © 2013. All Rights Reserved. WB GAMES LOGO, WB SHIELD: ™ & © Warner Bros. Entertainment Inc.