The newest chapter of the iconic fighting franchise is now available! Experience the deadliest tournament with all the kombatants and their unique fatalities.
Screenshots & Videos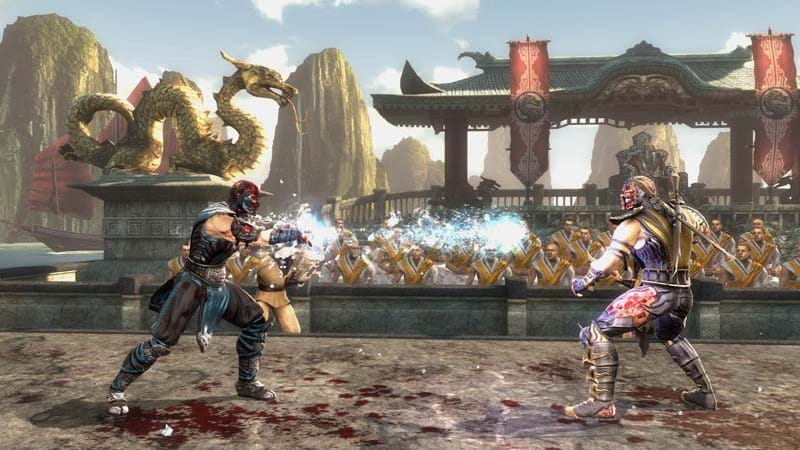 Players enter the realm to face the Kombatants in Mortal Kombat Komplete Edition, delivering all of the downloadable content (DLC), including intrepid warriors Skarlet, Kenshi and Rain, as well as the notorious dream stalker Freddy Krueger. Additionally, the game offers 15 Klassic Mortal Kombat Skins and three Klassic Fatalities (Scorpion, Sub-Zero and Reptile).
Mortal Kombat Komplete Edition features dynamic gameplay including Tag Team, Challenge Tower and a full feature length story mode. Players choose from an extensive lineup of the game's iconic warriors and challenge their friends in traditional 1 vs. 1 matches, or gamers can spectate battles and interact directly with Kombatants online during the King of the Hill mode. The game supports the Mortal Kombat Tournament Edition Fight Stick and delivers full controller capability. Players will also be able to access achievements and leaderboard stats.
Mortal Kombat Komplete Edition software © 2013 Warner Bros. Entertainment Inc. Developed by High Voltage Software. Unreal® Engine, copyright 1998-2013 Epic Games, Inc. Unreal, Unreal Technology and the Powered by Unreal Technology logo are trademarks or registered trademarks of Epic Games, Inc. Autodesk, Beast, Turtle, and Scaleform are registered trademarks or trademarks of Autodesk, Inc., and/or its subsidiaries and/or affiliates in the USA and/or other countries. All rights Reserved. Uses FMOD Ex Sound System provided by Firelight Technologies. PhysX Technology provided under license from NVIDIA Corporation. © 2002- 2012 NVIDIA Corporation. All rights reserved. Uses Bink Video. Copyright © 2007-2013 by RAD Game Tools, Inc. Dolby and the double-D symbol are trademarks of Dolby Laboratories. All other trademarks and copyrights are the property of their respective owners. All rights reserved. Mortal Kombat, the dragon logo, NetherRealm Studios, NetherRealm logo and all related characters and elements are trademarks of and © Warner Bros. Entertainment Inc. ©New Freddy Krueger and all related characters and elements are trademarks of and © New Line WB GAMES LOGO, WBIE LOGO, WB SHIELD: ™ & © Warner Bros. Entertainment Inc. (s13)