Includes 2 items: Operation Flashpoint: Dragon Rising, Operation Flashpoint: Red River. Immersive sandbox tactical infantry FPS games.
Includes 2 items: Operation Flashpoint: Dragon Rising, Operation Flashpoint: Red River
Screenshots & Videos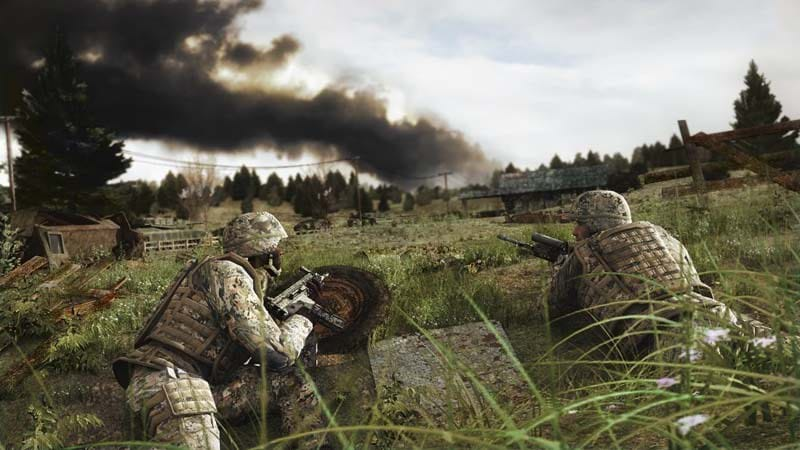 Operation Flashpoint: Red River
Stand together with the US Marines in Operation Flashpoint: Red River, the ultimate tactical infantry shooter. You'll play as one of four distinct and complimentary classes in a Marine Fireteam – Grenadier, Scout, Rifleman and Automatic Rifleman - as you embark on an epic campaign. Take on huge sandbox battlefields in the new setting of Tajikistan, a geopolitical hotspot bordered by Afghanistan and China. Face the unpredictable threat of all-new insurgent enemies and the might of the world's largest Army, the Chinese PLA. Use authentic tactics on your own initiative in solo or in four player drop-in, drop-out co-op campaign.
For extended replayability, Operation Flashpoint: Red River also includes new class choice, load-out personalisation plus standalone co-op Fireteam Engagements. With a huge range of authentic weapons and the chance to call in devastating airstrikes, Operation Flashpoint: Red River will put you in the boots of a Marine like never before.
Operation Flashpoint: Dragon Rising
Operation Flashpoint: Dragon Rising is a game about a fictitious conflict on one of the Sakhalin islands, a conflict that is in danger of erupting onto a global scale. The player takes the role of a US soldier, part of the allied force fighting against outnumbering Chinese forces vying for control of the island.
The game centers on a campaign narrative that gives the player a variety of roles in the allied forces ranging from a Marine Infantry, tank commander, Special Forces and helicopter captain. The game has an incredible realistic depiction of war with careful attention to the detail of the weapons, equipment and tactics of the armed forces. The action is varied from intense fire fights through to slower pace tactical decision making on how to best tackle the mission objectives. 
© 2010 The Codemasters Software Company Limited ("Codemasters"). All rights reserved. "Codemasters"® and "Operation Flashpoint"® are registered trademarks owned by Codemasters. "Red River"™, "EGO"™ and the Codemasters logo are trademarks of Codemasters. All other copyrights or trademarks are the property of their respective owners and are being used under license. Developed and published by Codemasters. Unauthorised copying, adaptation, rental, lending, re-sale, arcade use, charging for use, broadcast, cable transmission, public performance, distribution or extraction of this product or any trademark or copyright work that forms part of this product is prohibited. Use of military imagery from Defenseimagery.mil does not constitute or imply endorsement by the Department of Defense.